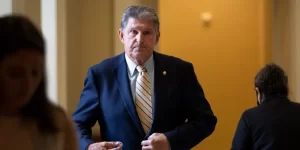 Sen. Joe Manchin of West Virginia. Drew Angerer/Getty Images
Sen. Joe Manchin has struck a deal to advance President Joe Biden's agenda.
The deal includes prescription drug negotiations, climate programs, and some tax reforms.
For months, he has swerved on whether he wanted to cut a deal after tanking Biden's agenda.
Sen. Joe Manchin of West Virginia struck a surprise deal with Senate Majority Leader Chuck Schumer on Wednesday to advance a skinnier version of President Joe Biden's stalled economic agenda, propelling hopes among Democrats they're able to break a stalemate and deliver on key priorities on climate, health, and tax programs before the November midterms.
"Rather than risking more inflation with trillions in new spending, this bill will cut the inflation taxes Americans are paying, lower the cost of health insurance and prescription drugs, and ensure our country invests in the energy security and climate change solutions we need to remain a global superpower through innovation rather than elimination," the conservative Democrat said in a lengthy statement.
A separate joint statement from Manchin and Schumer further outlined the details, which amounted to a larger bill compared to the healthcare programs on the table only weeks ago.
The pair agreed to extend financial assistance for people to purchase health insurance through the Affordable Care Act for three years. It also included $370 billion for climate and energy programs and $300 billion to reduce the federal deficit. Democrats aim to clear it in the upper chamber next week.
Here's how Democrats intend to pay for Manchin's $740 billion deal:
$313 billion from a 15% corporate minimum tax
$288 billion from allowing Medicare to negotiate prescription drug prices
$124 billion from stepped-up IRS enforcement
Biden threw his support behind the nascent deal on Wednesday evening. "This is the action the American people have been waiting for," he said.
However, the agreement brings back old hurdles for Democrats trying to approve the spending package using reed-thin majorities. The deal is drastically trimmed from the $2 trillion House-approved Build Back Better bill. Democrats jettisoned their ambitions to establish affordable childcare, set up universal pre-K, revive a monthly check program for parents to draw the mercurial moderate's critical vote.
Read the full text of The Inflation Reduction Act of 2022 »
New bill, same old problems
Democratic Sens. Kyrsten Sinema of Arizona, right, and Chris Murphy of Connecticut. Tom Williams/CQ-Roll Call, Inc via Getty Images
The agreement provides new momentum for Democrats to revive pieces of Biden's economic agenda, which ran aground in the 50-50 Senate due to Manchin's resistance. Senate Democrats can't barrel past united GOP opposition without all 50 Democratic senators onboard to approve the spending bill through budget reconciliation.
Most Democratic lawmakers appeared caught off guard by the stunning development on Wednesday. Sen. Richard Blumenthal of Connecticut called it a potentially historic package while conceding there "hadn't been a lot of talk about it."
Sen. Ron Wyden of Oregon, chair of the Senate Finance Committee, called it a "win, win, win" to "drastically cut carbon emissions" and securing "energy independence."
Sen. Tina Smith of Minnesota was blunter: "Holy shit. Stunned, but in a good way" she wrote in a Wednesday tweet.
—Senator Tina Smith (@SenTinaSmith) July 27, 2022
Manchin had long swerved on whether he wanted to cut a deal at all. He tanked the House-approved Build Back Better bill at the end of last year. Months of chaotic negotiations last fall laid bare bitter disagreements between the party's progressive and potent but small moderate wings on their effort to reconfigure the American economy.
Schumer started holding a series of private meetings in late April meant to gauge Manchin's appetite for a smaller bill more tailored to his priorities. He tanked those efforts only earlier this month, arguing he could not back climate programs or tax increases during a stretch of painful inflation. Manchin appeared to reverse himself again on Wednesday, a characterization that his spokesperson disputed on Twitter.
Manchin has pushed to shrink the federal debt, empower Medicare to negotiate lower prescription drug prices as well as combat the climate emergency provided that it doesn't immediately phase out domestic production of oil and natural gas. In addition, he favors lifting taxes on the wealthiest Americans and large corporations.
However, Sen. Kyrsten Sinema of Arizona poses something of a wildcard. The moderate Democrat is resisting efforts close the carried interest loophole, which allows wealthy investors to pay a lower tax rate on certain types of income. Manchin co-sponsored a bill last year to end carried interest — and that's running up against Sinema.
Sinema's spokesperson said in a statement: "We do not have comment as she'll need to review the text."
Democratic Sen. Debbie Stabenow of Michigan declined to answer questions about whether Sinema had signed off on every aspect of the Manchin-Schumer deal but stressed that leadership had kept her in mind while pulling everything together.
"The policies that are in here are things that she has supported in the past. Obviously, she will have to make a decision but I know that her concerns were kept in mind," Stabenow told reporters outside the Senate chamber.
She also confirmed there was "something on EV tax credits" in the bundle. Under the bill, Americans qualify for a $4,500 tax credit to buy used electric vehicles, depending on their income. The amount increases to $7,500 if it's a new EV.
"We're in a better spot than I thought we'd be," Stabenow said before ducking into an elevator.
Rep. Pramila Jayapal of Washington, chairwoman of the House Progressive Caucus, lauded the possibility that the Manchin deal would pave the way for significant progress on a slew of Democratic priorities such as reducing carbon emissions, imposing a minimum tax, and taking a "step" on lowering drug prices. But she is also keenly aware that progressives aren't getting everything they wanted.
"If we can get this done quickly, this will make everything we've gone through worthwhile," Jayapal told reporters as she was leaving the Capitol. "Every single one of these things is actually a huge deal."
Like many other progressives, Jayapal is also weary of celebrating too soon. They know that the prospects of a breakthrough have previously fizzled out.
"We've had the rug pulled out from us a few times," she later told Insider. "Let's just take it step-by-step."
Author: 4U.S.Integrity
This author has published 54 articles so far. More info about the author is coming soon.